Supercell Thunderstorm DVDs, Tornado Chase DVDs, Hurricane Landfall Documentary DVDs & Extreme Weather DVD's
To place an order, click on the "Add To Cart" button below each title.
Share this page!
**Feb 2013 New Release**
Rolling Thunder: "True Storm Chasing Stories" Season One DVD

+ Extras
On DVD ($12), Blu-Ray ($17)
Follow Scott McPartland & Dave Lewison as they delve into the science behind the chase! Rolling Thunder "True Storm Chasing Stories" chronicles some historic chases from years past, as well as our storm chases from 2012! We don't just show you the footage, we explain why each of these events happened, as well as what really goes into a chase. From the preparations, to the gear, to the storms themselves, we cover it all! All 8 episodes of Season One are on this DVD/Blu-Ray, along with 3 "extras" chapters which feature raw and extended edits of some of the more notable events we covered in the series. While all of season one is avaibable for viewing on my youtube channel, we felt that some might enjoy having an offering they could enjoy at home, on their TV's to get the full viewing experience. And at just $12 bucks (domestic shipping included!) for the standard DVD, how can you beat that?

-Ep1: Hurricane Katrina 2005

-Ep2: Hurricane Irene NYC 2011

-Ep3: The Hail Guards

-Ep4: Chase 2012 Preparations

-Ep5: La Crosse, KS Supercell & Tornadoes 5.25.12

-Ep6: Piedmont, OK Supercell, Tornado & Large Hail 5.29.12

-Ep7: Guthrie, TX Supercell, Large Hail & Hurricane Winds 5.20.12

-Ep8: Hurricane Sandy NYC 2012


*EXTRAS* Raw Extended cuts featuring previously unreleased footage!

-Hurricane Irene NYC 2011 (Raw Extended Edit)

-La Crosse, KS Supercell & Tornadoes 5.25.12 (Raw Extended Edit)

-Hurricane Sandy NYC 2012 (Raw Extended Edit)


Options
Scott McPartland's 2010/2011 Storm Chase Adventures
On DVD ($20) & Blu-Ray ($25) Also available via YouTube Rentals! ($4.99 Unlimited Duration)
Purchase my 2 hour 2010/2011 Storm Adventures DVD via YouTube Rentals and watch it in full HD, right on your PC or MAC! Only $4.99 for an unlimited duration! In essence you're buying it and not renting it. Log into your Youtube account, and then click the link below to be taken directly to the Watch page for more info!
$4.99 (Unlimited License) YouTube Rentals: 2010/2011 Storm Chase Adventures DVD (2 hours) Full HD
My 2010/2011 storm chase adventures DVD is packed with many amazing supercell storms, and tornado videos from the 2010 & 2011 season. On top of my usual mid west chase adventures, I have also included two New York City segments on this DVD as well. On September 16th, 2010 my neighborhood of Middle Village/Rego Park, Queens NY was hit very hard by a tornado and 125 mph downburst and as luck would have it, I was there as it all happened. My neighborhood was one of the worst hit in the city and we were cleaning up for months. Then, on December 26th, 2010 the NYC Metro was slammed by a blizzard the likes we have not seen in about 7 years. Fierce winds buffeted Manhattan at the height of the storm, and we were blanketed with over 20 inches of snow! Thundersnow even occurred at one point. I was there to document it all! Also, at the end of each of those NYC segments are graphics, radar & satellite animations, and narration by yours truly explaining how both of those events unfolded. Something else I am doing for the first time is I am making this years highlights available not just on standard DVD, but on Blu-Ray DVD as well. If you have a Blu-Ray player and an HDTV you can now view all my footage the way it was meant to be seen, in full high definition! Below is a run down on what the DVD contains!

-May 10th, 2010 Nash, OK Tornado & Supercell

-May 11th, 2010 Woodward, OK LP Supercell

-May 16th, 2010 Forest Park, OK (OKC Metro) Major Hail Storm

-May 18th, 2010 Dumas/Stinnett, TX Supercell and Tornado

-May 19th, 2010 Stillwater, OK Supercell & Brief Tornado

-May 22nd, 2010 South Dakota Awesome Supercell Structure

-September 16th, 2010 Queens, NY Tornadic Storm & 125 mph Downburst

-December 26th, 2010 NYC Christmas Weekend Blizzard

-May 20th, 2011 Cunningham/Pratt, KS Supercell

-May 21st, 2011 Ada, OK Supercell & Tornado

-May 23rd, 2011 Okeene, OK Supercell & Tornado

-May 24th, 2011 Fairview, OK Supercell & Tornado

-May 30th, 2011 Taylor, NE Supercell/Kearney, NE Lightning

-June 1st, 2011 Stockton/Osborne, KS HP Supercell


View The Trailer!
2009 Storm Chase Highlights (2 DVD Set!)
$20.00 (Free Shipping!)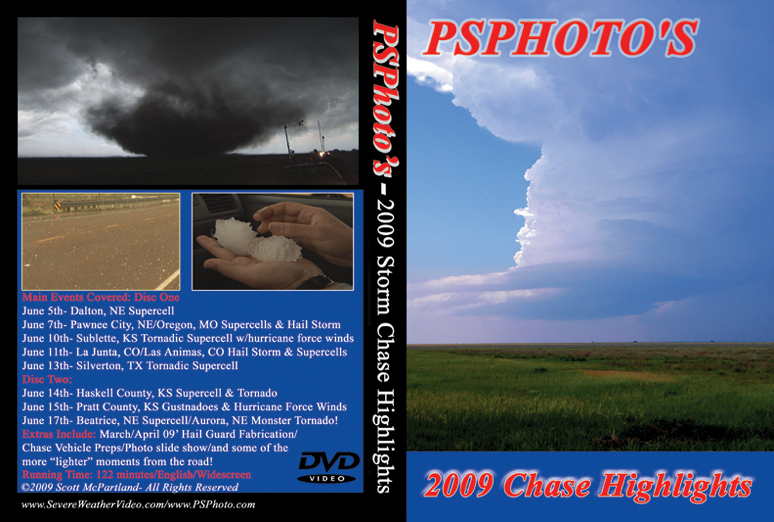 Dave Lewison and I had an amazing year! As some of you may know, May 2009 was historically quiet out on the plains with a serious lack of severe weather. But, our schedules were flexible so we held off on taking our chase vacation until June and WOW did it pay off! We documented many amazing supercell thunderstorms, along with two amazing tornadoes! One of which was the monster Aurora, NE tornado of June 17th! This is the first DVD of mine that is full 16:9 widescreen as all of the video was originally shot in HD. The quality is amazing! No worries though if you do not have a widescreen TV, the DVD will play just fine on a regular television, you'll just have the black bars at the top and bottom is all. This DVD set was professionally duplicated, not home burned. And the DVDs come in a black amaray box with vibrant cover & disc artwork.

Total Running Time is 122 minutes. Why make it a 2 DVD set you ask? To ensure the highest quality video as I would have had to compress it big time to fit all on one DVD. Below is a complete run down on what the DVDs contain!

-Spring 2009 chaser get together in the Florida Keys!

-Fabricating our new driver & passenger side window hail guards & chase vehicle preparations for storm chase 2009

-June 5th Dalton, NE Supercell

-June 7th Pawnee City, NE/Oregon, MO Supercells & Hail

-June 8th Ham Radio Installation/Chase Preps Wichita, KS

-June 10th Sublette, KS Tornadic Supercell (tornadic circulation passes right on top of us!)

--June 11th La Junta/Las Animas, CO Supercells & Hail Storm

-June 13th Silverton, TX Tornadic Supercell

-June 14th Ulysses, KS (Haskell County) TORNADO!

-June 15th Pratt County, KS Gustnado Fest & large hail

-June 16th "Laundry Day" lighter moments

-June 17th Beatrice, NE Supercells & Aurora, NE Monster TORNADO!

-Photo slideshow


View The Trailer!
Hurricane Ike- Galveston, TX September 13th, 2008
**Only 15 copies left!!**
$25.00 (Shipping Included)
Ride along with veteran storm photographers into the wrath of Hurricane Ike as they tell their amazing stories- from the Florida Keys to the Texas Coast. Experience the eerie calm eye and the raging backside eyewall in a city submerged. The fires, the flooding, huge waves pounding the seawall, Coast Guard Rescues, comparison with the 1900 Hurricane, scenes from Texas City and Freeport, satellite/radar animations, and more.
Storm Highlights 1999-2005 DVD
$18.00 (Shipping Included)
This DVD contains my personal chase highlights from the last 7 years. Basically it is a "meat and potatoes" compilation of all of my VHS tapes and DVD's that I've put together since 1999, as well as footage that has never been in any of my productions.

Most notably video that was shot as we revisited the gulf coast in November 2005, two months after Hurricane Katrina made landfall.

Below is a rundown on what the DVD will contain:
1999-2005 Music Video Montage